News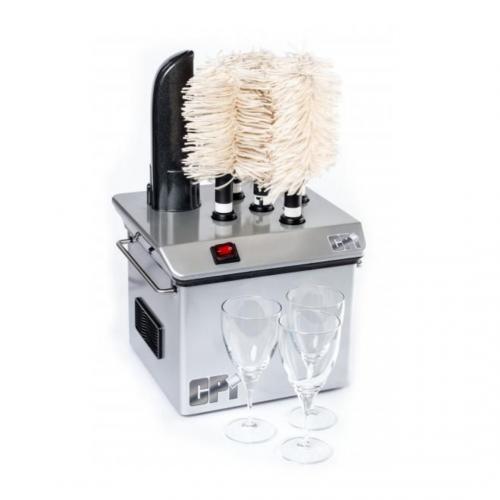 Product Spotlight: Stemshine Pro GP5 Glassware Polisher Machine
July 09, 2020
Are you looking for a way to improve the efficiency and productivity of your front-of-house staff? A necessary but time-consuming task involves properly polishing your glassware manually before they are ready for service. Polished glassware is standard when it comes to serving customers, but oftentimes can take up valuable time that your staff could better allocate elsewhere.
Luckily, Campus Product Inc.'s Stemshine Pro GP5 glassware polisher machine was designed and manufactured with the unique needs of bars, hotels, banquet halls, and other businesses within the hospitality industry in mind.
With the ability to polish upwards of 350 glasses an hour, the Stemshine Pro effectively reduces labour and improves consistency - freeing up your staff to work on more pressing front-of-house needs.
Not only does the Stemshine Pro glassware polisher machine promise great efficiency when used as part of your regular operations, but it can reduce breakage - thereby improving the safety of both your staff and customers. The Stemshine Pro also does not compromise on being gentle despite also offering great durability. Its 5 brushes gently wipe away any smudges, and work to seamlessly wick away any excess water - leaving behind a crystal clear glass ready to be served.
Performance Features of the Stemshine Pro GP5
The Stemshine Pro glassware polisher machine is incredibly user-friendly - its simple controls make it very easy to use. It also features a high-temperature filament heater, making for quicker drying times while making for more efficient polishing operations.
Concerned about the long-term effects of wear and tear? The Stemshine Pro's high-speed gear motor is durable enough to withstand regular use. That way, you can rest easy knowing your Stemshine Pro GP5 is ready to serve your business's needs in the long-term.
Finally, the Stemshine Pro is also light-weight and portable, meaning you will be able to move the appliance around as you see fit with relative ease.
If you're interested in learning more about the Stemshine Pro GP5, be sure to call us today to inquire.
No comments yet...
*** Your email address will not be published.