Complement Your Wine Class Cleaner with HypoTherm™
HypoTherm products from Campus Products are designed to frost wine glasses within the first ten seconds of use. These work incredibly well alongside our wine glass cleaner and glassware polishing machine products, as they are fully portable and easy to install – no special tools needed!
The HydroTherm can be easily mounted onto any bar or countertop (through an included clamp) and connects to a stainless steel liquid Co2 tank – which must be purchased separately – which can convert any room-temperature glass into a frosted one within seconds. When you aren't using a glassware polishing machine, you can use the HypoTherm to add a great aesthetic effect quickly and efficiently.
The wide spout included in all of our HypoTherm wine glass cleaner models allows them to accommodate a wide variety of glassware products.
Small Form Factor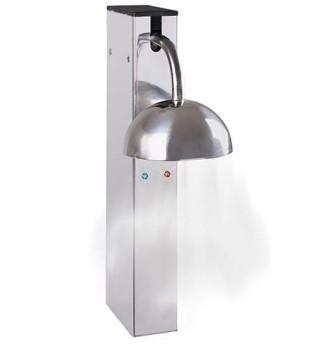 Overview
HypoTherm mounts to a bar or countertop with the included clamp (minimum of 2" overhand required) and takes up very little counter space.

Forgot to stock glasses in your freezer to chill?? Not a problem with HypoTherm. Instantly save space and energy by not having to keep your glassware in cold storage.