Silvershine: A Silverware Polishing Machine
Our critically-acclaimed silverware polishing machine can polish stainless steel flatware and other forms of cutlery easily and effectively, ensuring a pristine presentation for all of your guests – every time. This machine can save you time and labor costs, both of which are invaluable tools for efficiency in the hospitality industry.
Our Silvershine products decrease the chances of contamination of any kind while working at a low annual operating cost. Our silverware polishing machine will polish stainless steel flatware right from your bar or countertop, and works to dry your flatware in record time – all the while freeing time and energy for your workers to manage other important tasks.
The potential usefulness of these machines for the food-service industry cannot be understated, and our award-winning silverware polishing machine is still available to increase your productivity and help polish your stainless steel flatware at a cost-effective level. To learn more about these products, check out the links below, or feel free to reach out to us any time.
CDM-12k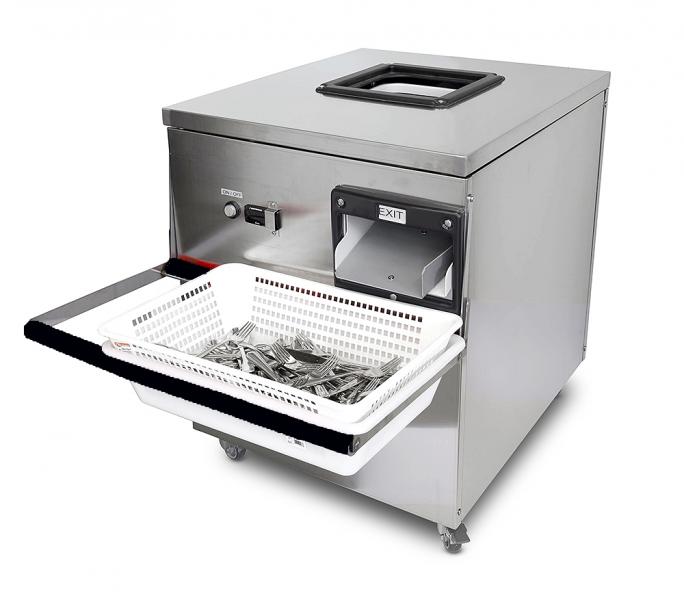 Overview
The critically acclaimed Silvershine™ is a "must-have" appliance that ensures 100% consistency in presenting pristine cutlery for your guests. Even better, it does so while reducing your labor, improving your food safety and has a low annual operating cost.

The Silvershine™ was the recipient of the Kitchen Innovations 2007 Award presented by the National Restaurant Association.

The CDM-12K is the highest volume product that is best suited for very high volume restaurants, banquet halls, event rental companies, casinos, hotels, or convention centres.
Product Description
How It Works
Simply drop freshly-washed, wet cutlery into Silvershine™ and 30-40 seconds later it is dry and perfectly polished!
Insert clean, wet cutlery in hopper
Warm granulate vibrates on cutlery
Granulate absorbs water while polishing
UV-C lamp kills bacteria
Cutlery is dry and polished in seconds
Build Quality
Self diagnostic on start-up
Patented stainless steel NAUTILUS tub
Calrod heated tub provides consistent heat
Simple-to-use controls and easy-access for servicing
Protective shroud over UV-C lamp
Each unit includes a custom catch bin and a tub of granulate
Performamce Features<
SilverShine ™ CDM- 12K is designed for medium / high volume operations and with its 120V power consumption it's truly just "plug-and-play".
The floor model sized CDM-12k can be moved inside an operation to best fit the needs of the operation.
Labor Savings and Capacity
Operating automatically at 30-40 seconds per piece and up to 12,000 pcs/hr, Silvershine™ CDM-12K ensures that you have a perfect shine while using the least amount of labor possible. Not only is your cutlery spotless, it is 100% sanitized and food-safe.
Food Safety
100% Sanitized Cutlery
Silvershine™ eradicates 100% of food hazards that can occasionally survive the dishwashing process living in your flatware's residual moisture as it waits to be dried and polished.
Employing a 9-11W ultraviolet (UV-C) lamp operating at a peak of 253.7 nm, Silvershine™ effectively delivers a safe, chemical-free germicide process that is 100% effective.
Related Products