News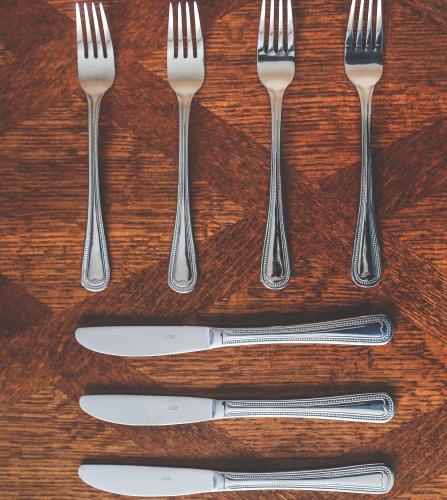 How to Keep Your Silverware Pristine
May 16, 2019
Silverware, also commonly known as flatware, is used widely in homes across the world, but also in restaurants or larger food establishments. In places dealing with such massive quantities of silverware, there is a significant challenge with cleaning and maintaining them. Every business wants the quality of their cutlery to reflect the standard of their establishment. With Campus Products Inc's critically-acclaimed silverware polishing machine, that process is now much easier and effective.
Unclean or streaked silverware can paint a poor image of an establishment or provoke complaints from customers. While workers can always take some extra easy steps to ensure the process goes smoothly, the Silvershine Silverware Polishing Machine is easy to use, ensuring the presentation of pristine utensils.
Here are some cleaning and caring tips to not just make your silverware sparkling clean, but also last longer:
● Remove any food remnants from the silverware as soon as possible. The longer the silverware is left out, the harder it becomes to clean. You can presoak the silverware for about 20 minutes, keeping in mind to change the soaking solution every few wash cycles to prevent accumulation of chemicals and food particles.
● When washing silverware, it is good to mix different utensils together to prevent nesting, or the tendency of utensils to stick together. Nesting will result in individual utensils not getting enough water and thus not cleaning as well.
● Avoid using hard water and cleaning products high in chlorides as they can damage the protective film of the silverware. With that said, a high quality machine can help mitigate some of these ill effects.
● Finally, to ensure that your silverware always looks at their best, polish them immediately using a silverware polishing machine to eliminate water marks and smudges.
The Silvershine silverware polishing machine works at a low annual operating cost and is versatile in its use, polishing any level of contamination away in record time. With these tips and an excellent silverware polishing machine in your hands, you're all set!
No comments yet...
*** Your email address will not be published.