News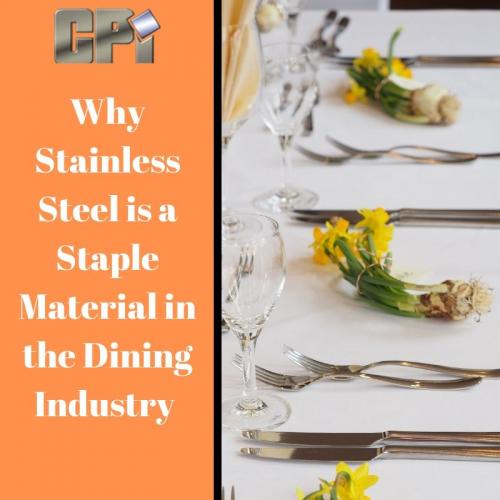 Why Stainless Steel is a Staple Material in the Dining Industry
September 06, 2019
Have you ever wondered why the vast majority of cutlery is made from stainless steel? The benefits of this material make it so that it is perfectly suited for the dining industry. The biggest advantage of stainless steel over other materials is its resistance to rust and corrosion. Add to this the fact that it is much easier to clean and polish stainless steel flatware, meaning dining establishments can reduce labour while maintaining their good reputation.
Here are the other interesting facts about stainless steel cutlery:
#1. Stainless steel is ubiquitous in the restaurant world. It is present not only in cutlery, but in other items as well such as pans, bowls, and kitchen equipment. This is because stainless steel is very versatile and durable, making it the preferred material for an industry which sees its equipment go through high temperatures and frequent use. Moreover, it doesn't easily bend, chip, or crack and can keep its shine for years as long as proper methods to polish stainless steel flatware are adopted.
#2. Stainless steel does not affect the flavour of foods. It won't react with most food items during meal preparation, cooking, and eating. Plus, it's the most hygienic material available, as it is relatively more resistant to germs and dirt sticking to its surface.
#3. Stainless steel is 100% recyclable. In fact, almost 90% of products made from stainless steel, cutlery and kitchen items included, are recycled. As such, the majority of new products made from this material come from old, recycled steel. Unlike porcelain and glass, stainless steel does not break once fallen.
It is easy to see how stainless steel has become such a staple in the dining industry. Virtually all cutlery in dining establishments are made from stainless steel. CPI Shine's Silvershine cutlery polishing machine is a great solution for you if you want a fast, foolproof method to polish stainless steel cutlery flatware. Get in touch with us today for more information about our machines!
Makes a lot of sense why steel is so popular!
Posted by: David | September 13, 2019, 11:53 am
*** Your email address will not be published.