News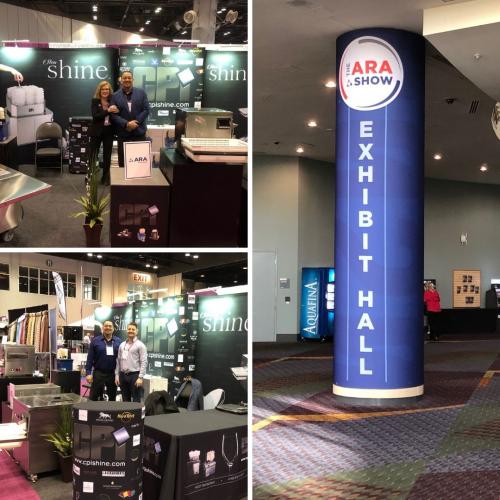 CPI's Most Innovative Machines at the 64th Annual ARA Show
February 19, 2020
Campus Products Inc. participated for the 8th year in a row at the 64th American Rental Association (ARA) show in Orlando, Florida. This show is the industry's annual showcase with over 700 exhibitors each year, showcasing some of the latest and innovative equipment today.
This year, the theme of the show was "Focus on the Future", which is exactly what Campus Products did.
With a team of professionals with over 100 years of cumulative experience in the field, we design, supply and facilitate cost-efficient solutions that help those in the hospitality and food service industry. Our solutions include state of the art equipment like glassware and cutlery polisher machines and complete systems for specific glassware items. We have a variety of uniquely designed products that set us apart from other suppliers. Here are some of the products we offer:
Silvershine Machines:
Considered the "must-have" cutlery polisher appliance, it guarantees a 100% consistency in polishing your cutlery to perfection and presenting pristine cutlery for your patrons at all times. You simply just need to put freshly washed cutlery into the machine and your cutlery will be dry and polished in just seconds. Because it works so fast, you're ensured to have perfectly polished and spotless cutlery while using the least amount of labour possible. The built in UV-C lamp and chemical-free germicide will kill bacteria and guarantee 100% sanitized cutlery.
Stemshine Machines:
To save time and effort, the stemshine machines will gently polish and dry all stemware and glassware in a minimal amount of time. The machine has rotating brushes that polish the surface while warm airflow dries the glass. With the ability to polish up to 400 glasses an hour, you'll always have impressive glassware presentation.
Hypotherm Machines:
Perfect for bars and restaurants, the Hypo-Therm machine will frost a glass in less than 10 seconds. You won't need to take up extra space in the fridge by placing glasses to chill and your customers will always be satisfied with cold and refreshing drinks.
In need of a glassware or cutlery polisher? Contact us today to learn more about how our products can help you.
No comments yet...
*** Your email address will not be published.