News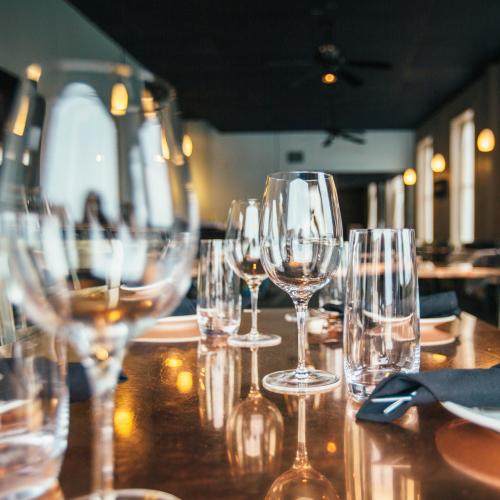 Enhance Customer Experience with CPI Shine
February 21, 2019
Whether you're the owner of a small business, or of a growing franchise – you'll want to maintain that your utensils, plates, and wine glasses sparkle. The carriers of your meticulously thought out cuisine and curated drink list – you'll want to maintain your restaurant's authenticity and story as the focal point as dishes and wine glasses are brought to your customer's table.
Presentation can be the difference between a 3-star and 5-star review. Going the extra mile to ensure your glassware and dishware gleam through each use can add that extra sparkle, contributing to the subtle understanding that you care deeply about each customer's restaurant experience. There isn't anything quite as frustrating than realizing your wine glasses have water spots on them. It's just as important to ensure that your wine glasses are perfectly polished after using a wine glass cleaner.
Luckily, Campus Products offers polishing solutions to compliment your wine glass cleaner so that you can get back to focusing on what matters most – serving great food.
Polish Your Wine Glasses Effortlessly with CPI's Stemshine
Avoid having to spend time perfectly polishing your glassware after you use your wine glass cleaner, by using CPI's Stemshine machine. Designed with the restaurant operator in mind, CPI's Stemshine is capable of ensuring a spotless shine every time – you'll be able to dedicate your time and energy to preparing food and customer satisfaction. CPI offers the Stemshine GP8, and the Stemshine Pro GP5 for glass polishing use.
Frost Your Wine Glasses in Seconds with Hypotherm
After you've washed and perfectly polished your wine glasses, you can frost them within seconds. Perfect for wines served chilled – you won't have to worry about keeping wine glasses in the freezer until needed. Save space and time with CPI's Hypotherm machine, and enhance customer satisfaction by providing perfectly frosted wine glasses each time. CPI offers the small form factor in addition to the original Hypotherm machine – perfect for varying work load capacities.
Campus Products, Inc. is your go-to for state-of-the-art solutions to meet the every-day needs of those working within the hospitality and food industries.
CPI creates innovative solutions to increase efficiency and promote customer satisfaction by reducing your operating costs and time. Solutions created with the every-day food operator in mind, CPI ensures exemplary service, and a higher level of excellence throughout our servicing process. From concept to installation – CPI is with you 100%.
No comments yet...
*** Your email address will not be published.