News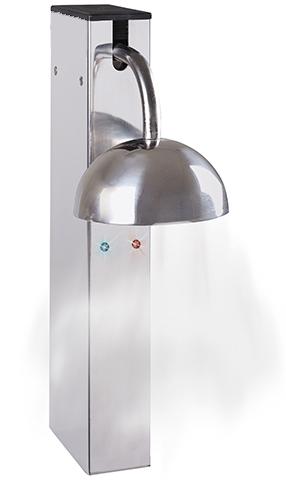 HypoTherm Glass Froster
January 13, 2016
The CPI (Campus Products, Inc.) Hypo-Therm glass froster will frost a glass in less than 10 seconds.
Forgot to stock glasses in your freezer? Not a problem with HypoTherm.
Instantly save space and energy by not having to keep your glassware in cold storage! Hypo-Therm is fully portable. Installation is fast and easy. No special tools are required. HypoTherm connects to a C02 tank or cylinder (not included) and its spout emits a frosty cloud that converts a room temperature glass into an ice-cold frosty glass in mere seconds.
HypoTherm's wide spout allows the C02 to completely cover a wide range of glasses varying from a regular rocks glass to beer and wine glasses. Hypo-Therm mounts to a bar or countertop with the included clamp (minimum of 2" overhang required) and takes up very little counter space. HypoTherm's blue LED light casts a glow onto the glass while adding an aesthetic effect to the procedure as it is frosts the glass. HypoTherm -- a great addition for your restaurant, bar or banquet hall!!
No comments yet...
*** Your email address will not be published.