News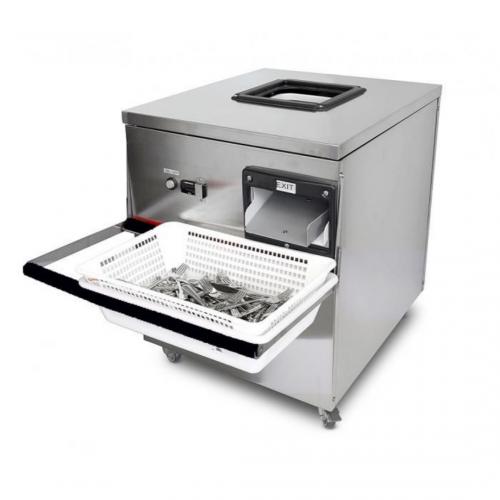 Product Spotlight: CDM-6K Cutlery Polisher Machine
July 16, 2020
Campus Products, Inc. designs and develops innovative appliances built to meet the demanding needs of the food service industry. Instead of having your staff dedicating hours to ensuring polished stainless steel cutlery, choose from our line of Silvershine cutlery polishing machines to maximize productivity, increase efficiency, and save you money and time.
We understand the importance of ensuring the operations of your front-of-house staff runs as smoothly as possible.
It is for this reason that we built the Silvershine CDM-6K to streamline the process when it comes to achieving polished stainless steel cutlery every time.
The critically acclaimed Silvershine CDM-6K automatic cutlery polisher was the recipient of the 2007 Kitchen Innovations Award presented by the National Restaurant Association. This appliance is meant to meet the needs of high-volume restaurants, banquet halls, event rental companies, casinos, hotels, or convention centers. As an effective and innovative way to dry, polish, and sanitize your silverware and flatware - the Silvershine CDM-6K promises consistent results with little effort.
Capabilities
The Silvershine CDM-6K is able to polish up to 6,000 pieces of cutlery per hour - reducing labour and costs. Operation is simple. Take your freshly-washed, wet cutlery and drop it into the Silvershine CDM-6K. Wait 30-40 seconds, and voila! Your cutlery is now dry and pristinely polished.
The Silveshine CDM-6K achieves an effortless shine every time using warm granulates that vibrate on the cutlery while inside the machine. The granulates absorb the water through the polishing process, and a UV-C lamp works to kill any bacteria. The result? 100% dry, sanitized, and polished stainless steel cutlery in under a minute.
Performance Features of the Silvershine CDM-6K
The Silveshine CDM-6K is compact and mobile, making it adaptable to almost any facility or environment. It is also quite user-friendly as all you need to do is plug the machine in to the nearest outlet and you're ready to go.
The Silveshine CDM-6K is also self-diagnostic and will inform users when to replace the granulate, and is quiet and vibration-free - meaning it won't disturb your guests or staff when operating.
No comments yet...
*** Your email address will not be published.