News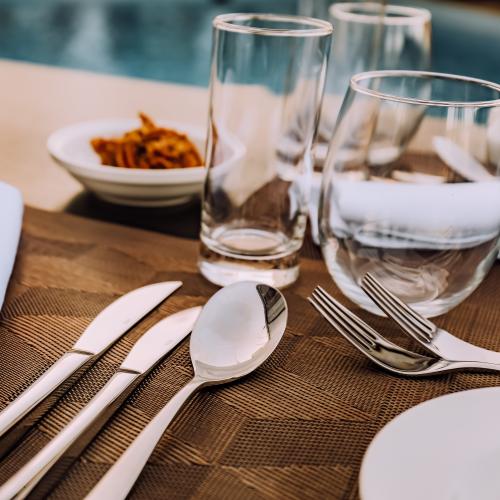 The Importance of Polishing Your Flatware
December 24, 2019
If you're a business owner in the hospitality industry, you probably have a basic understanding of why it is important to maintain, clean, and polish stainless steel flatware. Maintaining a higher standard of cleanliness will only positively contribute to your business image. Online reviews that suggest your business is poorly kept and unclean can serve to negatively impact your business. It is for this reason that you take pride in keeping your establishment clean and ensuring polished stainless steel flatware for customer use.
Today we'll delve into a few other benefits associated to ensuring you keep pristine polished stainless steel flatware.
Maintaining Hospitality Health and Safety Standards
Bacteria is everywhere – some types of bacteria can be detrimental to our health, especially when it comes to mitigating the risk of contracting foodborne illness. It is for this reason that keeping your work environment clean is imperative to ensuring customers don't get sick because of poorly handled food. By keeping your workspace clean, customers can rest assured knowing you're doing your part to keep their food safe.
Keeping Loyal Customers
Having customers not worry about their well-being at your hospitality business allows them to focus on what matters – the quality and taste of your food. Your business's commitment to adhering to health and safety standards includes properly cleaning and sanitizing your dishes and ensuring you polish stainless steel flatware to remove watermarks.
Spotless Cutlery with Campus Product's SilverShine Machine
If you want spotless cutlery every time, look no further than Campus Product International's SilverShine Machine – critically acclaimed silverware and cutlery polishing machine capable of maintaining a spotless shine every time. The SilverShine machine works hard to effectively polish your stainless steel flatware so you don't have to. For a cost-effective and productive solution for polishing your cutlery, call Campus Products International today! We'd be happy to help you select a SilverShine model that meets your needs.
Good tips on how to polish stainless steel flatware!
Posted by: Hannah | January 14, 2020, 3:00 pm
*** Your email address will not be published.